Which are the 9 best reed diffusers for home fragrance..!! Lets find out what are reed diffuser and the major advantages that they have over other home fragrance options. In this article we will showcase the best 9 reed diffusers that you can use at your home and offices. A complete guide on which fragrance suits which space in your home or office..
Reed Diffuser is a great home fragrance option. They keep the fragrant aroma lingering around your house day in and day out. They offer many noticeable advantages that no other home fragrance option actually offers. Some of the major advantages offered by best reed diffusers for home fragrance are as under
Reed Diffusers needs no flame to diffuse fragrance in your home!!
The concept of reed diffusers work in such a way that the rattan reed sticks are kept in the pot filled with fragrance oils. Through the capillary effect the fragrant scent travels through the reed sticks that diffuses scent in the air. Thereby creating a aromatic environment. In any other home fragrance options like scented candles incense sticks aroma diffusers flames are involved. Whereas in reed diffusers come with no flames to worry about, they're more practical and safe.
Fragrance through reed diffusers lingers through out the day in your home..!!
Reed Diffuser has to be soaked in the fragrance oils. Once this is done place it in the drawing room or bed room. Just see that the fragrance keeps lingering in the space for the entire day and night. All that you need to do is to refresh it by flipping the sticks once in a while.
Now that we have understood the advantages of using reed diffusers, lets find out 9 best reed diffusers for home fragrance that smell great…!!
Experience the most authentic lavender reed diffuser from the house of aroma galaxy. Enriched with the essential oil of kashmiri lavender blended with other essential / fragrance oils like sandalwood, bergamot and patchouli makes this an excellent choice for relaxing, calming and creating a spa like environment at home.
Embrace the zest of life!! This refreshing fragrance of orange blossom reed diffuser is very rich. With the invigorating scent of orange essential oil blended with neroli will instantly turn your room into a orchard of freshness. This reed diffuser is ideal for use in the drawing rooms, gym, health clubs as it creates a very refreshing environment.
Cinnamon Appple is a beautiful fragrance that has fruity note with spicy undertones. This reed diffuser is a rich blend of spicy essential oils like cinnamon leaf, cinnamon bark, clove leaf with the fragrance oil of juicy green apple. This reed diffuser is great for a large room. The fragrance is quite intense and can cover large area.
The reed diffuser oil that is ideal for masking bad odours is lemongrass. Lemongrass fragrance is very sharp and intense. It has the ability to mask bad smell coming out of washrooms and other closed areas of the house or office. This reed diffuser is blended with other spicy essential oils like clove and pepper. This fragrance makes a good option to keep the bad smell at bay.
This reed diffuser oil is a blend of fragrance oils of jasmine sambac and mogra. It has a base note of rich mysore sandle fragrance oil that makes this oil very long lasting and adorable. Place it in the drawing room and feel like you have kept fresh jasmine flowers in your house.
Rose fragrance oil with a touch of rich Malabar cardamom and yummy vanilla fragrance. Rose is the fragrance that creates romantic and an aphrodisiac environment. It has the ability to uplift the mood of the person. Rose & Vanilla reed diffuser is ideal to be placed in the bed rooms.
Rich mysore sandal fragrance oil blended with vetivert oil. Both these oils are woody notes. Feel the rich creamy fragrance of sandle oil blended with the sharp earthy leathery note of vetivert. This blend of reed diffuser is ideal for drawing room, study room and office space. One can keep feeling the rich notes as and when they pass through the drawing rooms. This reed diffuser is truly divine.
Bulgerian lavender oil is belnded with rich german chamomile fragrance oil. Lavender oil has the character of relaxing the mood of the person. Smelling lavender calms down the person. Chamomile has the ability to put one to sleep. Just imagine the effect that one will have if both these oils are inhaled together. This reed diffuser puts one in the relaxed state of mind. For best results place it in bedrooms and spa massage rooms.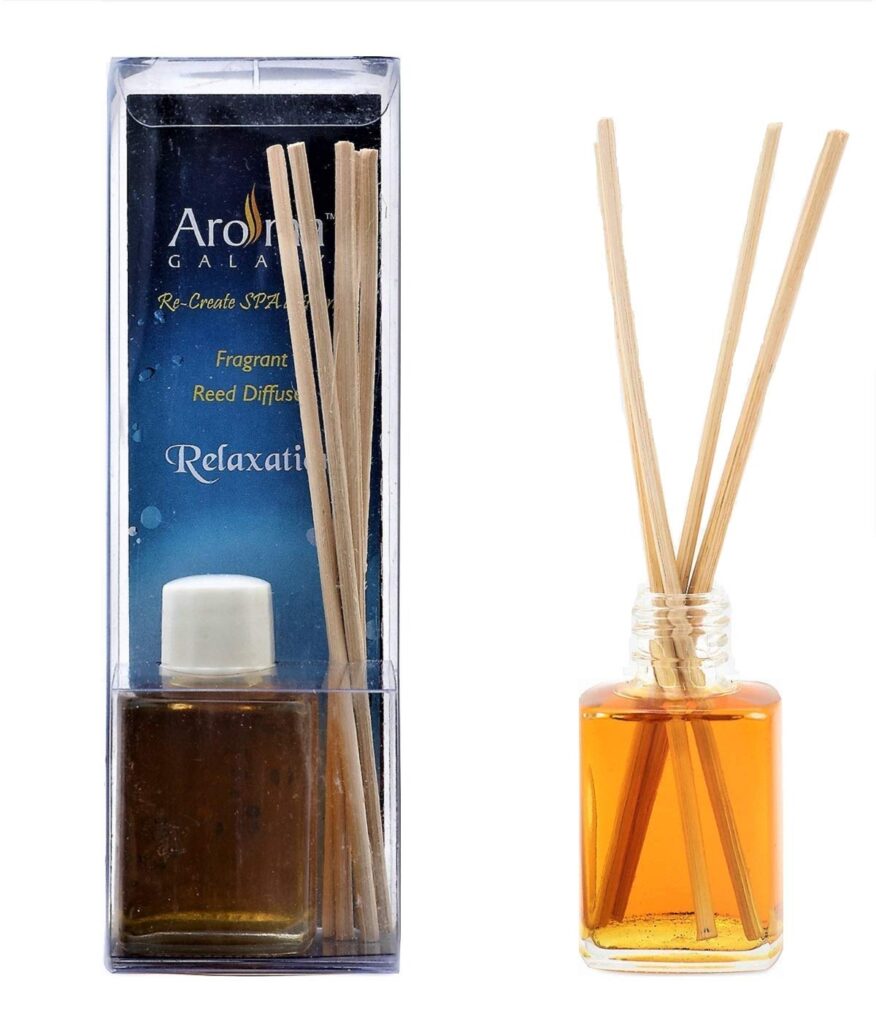 Essential oils / fragrance oil possess a very unique character of healing through aroma. The aroma of roots barks leaves and flowers have the ability to heal life style issues. Relaxation reed diffuser oil is a blend of unique essential oils and fragrance oils like patchouli, lavender, rosemary, jasmine. Placing this reed diffuser in your drawing room or bedroom or living room can truly bring relaxation to you.
Conclusion
These are the 9 best reed diffusers for home fragrance. Reed diffusers are very mild in nature. Only by placing the fragrance oils with some rattan reed sticks in the pot you are getting such a beautiful aroma for the entire day. The concept of reed diffusers is ideal for small and closed areas. Do not expect reed diffusers to be effective in large halls or open areas.Keep reed diffuser out of reach of children and pets. Enjoy the aromatherapy