Aromatherapy Basics
Treating through aromatherapy essential oils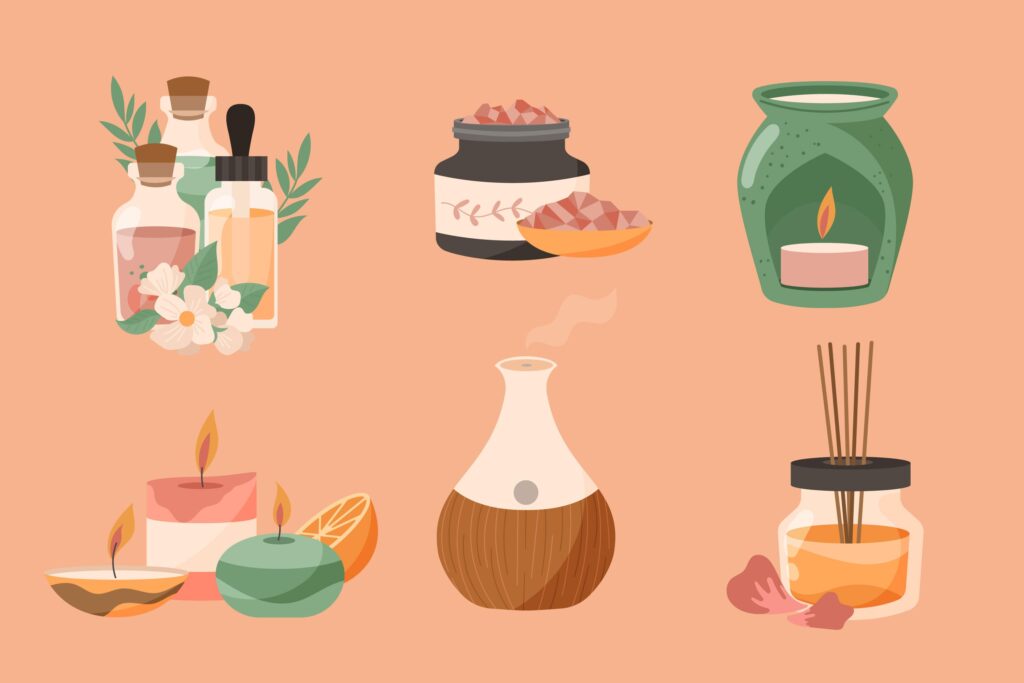 What is Aromatherapy…!!??
Aromatherapy essential oils…The word "Aromatherapy" literally means therapy through aroma, without specifically the source of the aroma. Aromatherapy in practice are use of essential oils and fragrance oils. Its richness is that it has so many aspects, which are complimentary to each other. In professional medical practice, it is the substances or oils and their biochemical effects that are central and in many house hold uses of essential oils, it is the aroma that counts and the pleasure of the aroma is the main reason for using the oils. Aromatherapy must be unique in having so many facts and in offering such a wealth of pleasurable, practical and therapeutic uses.
Therapy through aromatherapy essential oils is truly holistic therapy, taking account of the mind body and spirit of the person. Aromatherapy has its roots in the most ancient healing practice of human kind. The people in the early times probably discovered by chance that some of the leaves, berries and roots that gathered for food made sick people feel better. They must have made the people drowsy,happy, excited or may have even given rise to 'mystical' experiences.
History of Aromatherapy Essential oils…
Early man associated bad smell with disfavour of the God, illness and disease. A healthy person had a clean and fresh odour. They discovered that herbs and spices helped to preserve food, ailed in digestion and enhanced taste.. Herbs and aromatics became one of the few things important enough to carry, preserve and maintain. Primitive men saw in every plant a gift from the creator.
Primitive men certainly used his nose more than that we do. Most of us live in a highly polluted atmosphere and eat a mucus-forming diet. If one smokes he has even less of a sense of smell. Only by fasting you can rediscover the sensitivity of your senses, especially the sense of smell. One can appreciate the depth, beauty and subtlety of the odour of any flower or a fruit. One can realise how his perception of the world is entirely dependent on the senses you use to perceive it.
Aromatherapy essential oils are natural organic substances. They are the extracts from the flowers, leaves, roots of the plants. They are like milk in the mother's breast-a part of the plant and yet a separate substance from the rest of the plant.
Although the composition of most essential oils is complex, it is now possible to make a complete analysis of their chemical constituents. The oil can be artificially recreated by combining the same chemicals in the correct proportions. The only reason for doing this is that it can prove cheaper than using the natural oils. The odour of the reconstituted oils is never superior to that of natural oils; but can be equally good to the natural oils.
Some of the important aromatherapy essential oils..
This aromatherapy essential oils is extracted from the leaves and flowers of the basil herb. The essential oil contains Methyl chavicol. The egyption oil is the best to use. It has many of beneficial effects. It has a wonderful sweet herbaceous aroma.
Methods of use: Bath, Incense burner, aromatherapy body massage oil.
Healing effects:
Tulasi is being used from thousands of years in ayurvedic medicines. It is used as an antidote to poisonous snake and insect bites. Its is a good remedy for cold and flu. Tulasi oil is used to help depression and insomnia caused by stress and anxiety. Tulasi oil can ease aches and pains in muscles and joints and is effective in cases of gout. It is most effective when used to treat the mind, where it is strengthening and brings clarity of thoughts. It is effective to treat depression and confusion.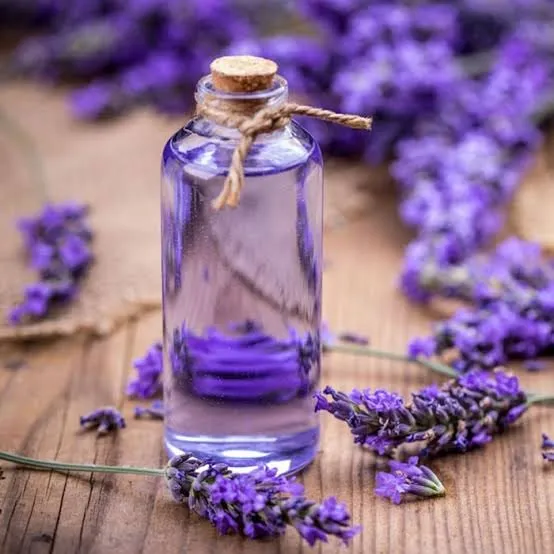 The common or old english lavender originated in the mediterranean region. It is grown commercially in several countries including England and France .Its delightful aroma is familiar to many of us. The oil that is colourless or pale yellow. It is obtained by steam distillation. This oil is herbaceous, floral with woody undertones.
Actions: Analgesic, antiseptic,antispasmodic,deodorant,hypotensive,sedative.
Healing Effects: A favourite aroma for thousands of years, there certainly do not appear to be many conditions where lavender cannot help. Versatile and safe, it is ideal for home use. Keep a bottle handy for all kinds of emergencies. It can soothe and calm all kinds of nervous tensions and shock, helping to lift depression, dispel irritability and quell panic and hysteria. A few drops rubbed on the forehead soothes headache. Try it to alleviate muscular aches and pains, arthritic and rheumatic pain, cramp, dermatitis, eczema, dry skin, oily skin, sunburn, cold, influenza, high blood pressure, anxiety.
Methods of use: Bath, oil burners, reed diffusers, aromatherapy body massage oils.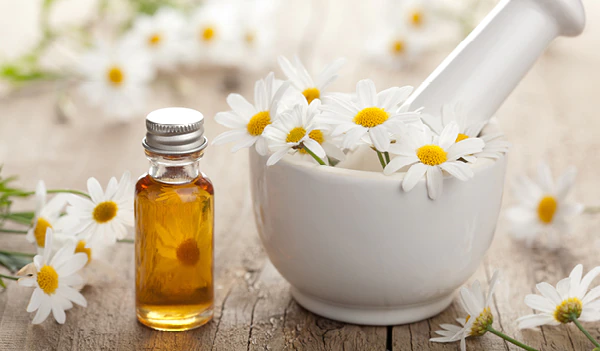 This oil is very important in aromatherapy. The method of extraction is steam distillation. From the flowers of German chamomile and from the whole plant of Roman Chamomile. The oil of the german chamomile species is deep blue and the aroma is sweet herbaceous, like strong honey with fruity undertones. The oil of the roman chamomile is paler and a greener blue, the aroma being sweet herbaceous like tea. The blue colour of the chamomile oil turns green with age. Chamomile contains chemazulene which makes it very effective for skin problems, ulcers. Chamomile is very effective for emotional healing. It has soothing and calming effect on both irritable children and grumpy adults.
Methods of use: bath, aromatherapy body massage oil, incense burner, reed diffusers, eye pillow.
This essential oil is derived from the geraniums grown in garden rubs and window-boxes. Obtained by steam distillation, the oil is a pale soft green with sweet floral scent that varies depending on the species used.
Method of use: Bath, as diffuser oil, reed diffuser oil, aromatherapy body massage oil.
Healing effects: Geramiun oil stimulates the adrenal glands promoting natural balance of hormones. This oil is useful in many types of skin conditions like burns, ulcers, wounds, dermatitis, inflammation. The effect of geranium oil on the mind is calming and uplifting. It strengthens the personality by increasing confidence and self-esteem. The oil combats mood swings, tension, fearfulness and depression. This oil blends very well with rose oil, the rose & geranium aromatherapy body massage oil or rose & geranium reed diffuser oil makes a great combination for creating joyful massage and delightful luxurious environment.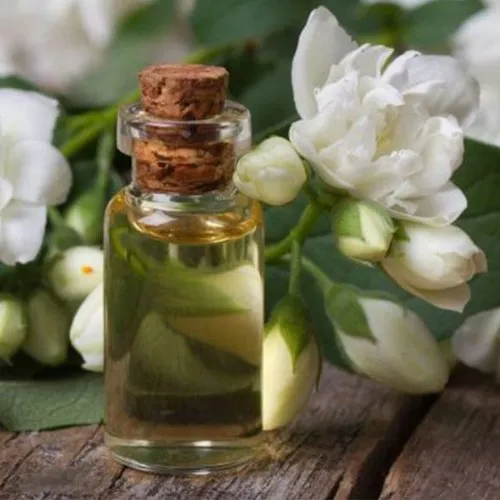 Jasmine
Madurai jasmine absolute is extremely expensive. Large quantities of flowers produce a very small amount of oil. Its exquisite aroma that is sweet, floral, honey like tones is very strong. It is dark brown in colour. It has many species like jasmine sambac, jasmine auriculatum, jasmine grandiflorum. Madurai jasmine flower grown in Madurai region of south India is very famous for is delightful, sweet, rich, floral, narcotic fragrance.
Methods of use
Diffuser oils, reed diffuser oils, aromatherapy massage oils, bath oils.
Healing Effects: Madurai jasmine oil has a wonderful effects on skin, regardless of type or age. This oil relaxes muscels that are stiff and tight when used in a body massage. Jasmine fragrance addresses anxiety problem. It will be of great help in warming the spirit. Regular use of products like Madurai jasmine & Mogra reed diffuser oil helps raise self-esteem, increase confidence and imparts a feeling of well being.
Lemongrass
The essential oil of Lemongrass is extracted from the fragrant and aromatic tropical grass. It grows mainly in India and Guatemala. It is now a familiar sight in supermarkets. The aroma of lemongrass from cochin differs slightly from the grass from Guatemala. Cochin lemongrass is strong and lemony but with herbaceous tone whereas the grass from Guatemala is sweet, sharp, lemony aroma.
Methods of use: Used in incense burner, reed diffuser, Lemongrass & Tulasi aromatherapy body massage oil(blends very well with tulasi oil)Try a patch test before taking a body massage.
Healing effect: If your skin accepts lemongrass oil, it has a marvellous restorative and uplifting effect. It is very goods for the treatment of sports injuries and torn ligaments. It has toning and stimulating effect on muscles and can help reduce the effects of oily skin condition. Lemongrass diffuser oil or lemongrass reed diffuser oil can ease tension, headaches. If you suffer from headaches caused by perfumes or aromas in general, use lemongrass in moderation. It is most effective when used to promote psychic studies, development and psychic protection. It imparts a feeling of freshness and well being.
sweet orange oil is being extracted by expression. The most popular method is the distillation of the pulped fruit. The benefits are that citrus oils extracted by this method are more widely available, cost effective and less harmful to the skin than expressed oils. The aroma is like a fruit.
Methods of Use : Bath, Diffuser oil, reed diffuser oil, massage oil or cream.
Caution.: May irritate highly sensitive skin. Avoid on areas of damaged skin. Avoid use if exposed to sun.
Rose Oil
The oil from Rose damascene, the damask rose comes mainly from bulgeria. This essential oil can be obtained by hydro distillation.
The absolute (from solvent extraction) is obtained by Rose centifolia notably culitivated in the Grassy area of France and also in Morocco for perfumery.
Pure bulgerian rose oil is one of the most expensive oils used in aromatherapy. This is very strong. This oil has a great retention. Rose absolute is a deep reddish brown in colour and thick in consistency(frequently solid at room temperature) Sometimes the essential oil of rose is a dilution of the absolute. The fragrance of pure natural rose oil penetrates your mind and feels heavenly. During hydro distillation rosewater is obtained.
Methods of Use: Aroma Diffusers, reed diffusers, aromatherapy body massage oil
Healing Properties: Rose oil is healing for many conditions like circulation problem, broken capillaries, varicose veins, arthritis, hormone imbalance. Rose massage oil is excellent for skin care. Pure rose water is refreshing and soothing as a toner. The oil also soothes fear, anxiety, feeling of anger, frustration, resentment, jealousy and suspicion. It lifts depression and helps to clarify the mind, leading to positive decisions. It's a wonderful tonic for mind and soul.
These are some of the very important essential oils or aroma oils that are of immense importance in the science of treating through aroma-"Aromatherapy". This article tries to furnish information regarding the whole concept of aromatherapy, the history of aromatherapy, how the practice of the theory of healing through aroma come into existence, some of the important essential oils/fragrance oils, there healing benefits, methods of using those aroma oils.